Chief Scientific Officer awards 2018
Healthcare Science Partnering Patients and Citizens
This award celebrates healthcare scientists who in different ways exemplify the "new relationship" in their work.  This includes for example: understanding what really matters to patients and families and using this intelligence to shape their approaches and activities.
Miss Emily Frost, Adult Audiology Clinical Lead & Research Associate/PhD Student, Imperial College NHS Trust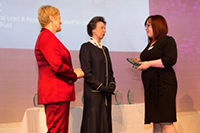 Emily has been awarded for her work as an audiologist on the EU funded Horizons 2020 project 3D Tune In.  This project focuses on designing serious games for hearing aid users to learn about their hearing aids in an empowering and interactive virtual environment.
The work demonstrates a successful participatory design process with not just bringing together hearing aid users, their families but a whole range of different experts too to shape the approach.